Aug26:Day 3 - in a strange land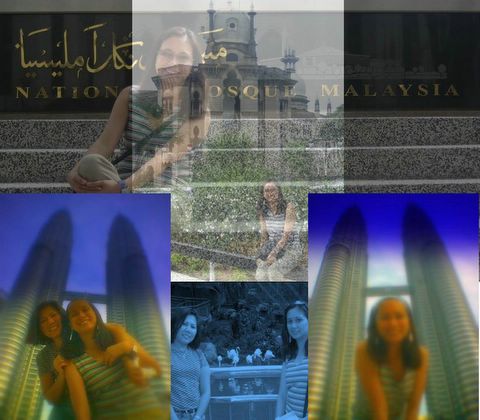 It was almost 8am when we reached Kuala Lumpur, an hour delayed. But with no reasons to rush, we first took shower at the train station, secured our things in left-baggage lockers and enjoyed a good breakfast at McDo (hmmm love that has brown dipped in strawberry jam!). After talking with the very accommodating receptionist, we thought that our stay in KL would be as smooth as our 1st day in SG but uh-oh...
what went wrong:
announcements inside the train are broadcasted in native tongue! Consequently, we have to very attentive in counting the train stops in order to get off at the right station
"ordinary" malaysians seem to be allergic to tourists, their unfriendly faces scared us from asking directions
deceived by the map, we took a very long and exhausting walk from the National Mosque to the Bird's Park, totally unaware that the park is located uphill
in contrast with the aloof "ordinary" malaysians, the vendors in Petaling Street (Malaysia's version of ChinaTown) were very aggressive and scared us away
unexpected rain!!
But in fairness to KL, generally, we did enjoy our trip.
what went well:
declared as the biggest covered Bird's Park in Asia, it indeed showcased beautiful and rare species of birds ... though the place needs more improvement and innovations
taxi is reasonable.. and very convenient to first timers
compared to SG, prices are more affordable.. unfortunately, the rain lowered our shopping stamina
unlike in Petaling, vendors in Central Market (another place for bargains) were shopper-friendly
the rain finally stopped, just in time for our visit to Petronas Tower... wow, picture perfect!